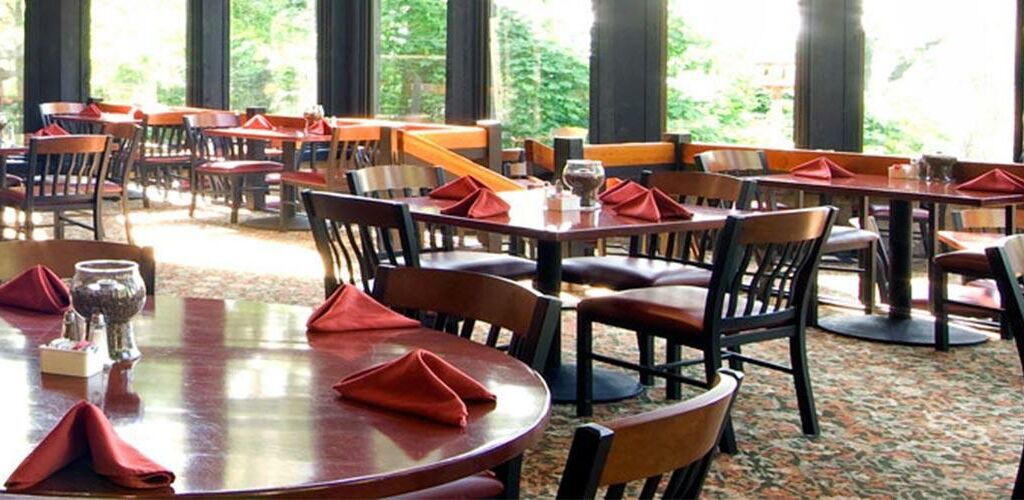 Satisfy Your Cravings
Taste the flavors of northeast Ohio and take in the local ambiance while dining with us. The Mohican Restaurant – Bromfield's Dining Room – offers full service and affordable dining, open for three meals daily. Boxers Lounge offers full beverage service and a dance floor. 

---
Bromfield's Dining Room
Enjoy a quality family-style meal at Bromfield's Dining Room, named after Pulitzer-prize winning author and naturalist Louis Bromfield. Take in the view of beautiful Pleasant Hill Lake and the surrounding hills while dining by the grand fireplace. The dining room is open daily and serves breakfast, lunch and dinner. Dinner offerings include daily specials, seafood, Italian dishes, salads, soups, sandwiches, and a complete children's menu. Bromfield's seats 125 and the private Tribal Dining Room seats 70 guests.
Hours of Operation:
Breakfast 
Lunch 
Dinner 
5:00–8:00 PM Sunday-Thursday 
5:00-9:00 PM Friday and Saturday
Menus:
Breakfast Menu
Lunch Menu
Dinner Menu
Boxer's Lounge
Boxer's Lounge, named after Louis Bromfield's beloved dogs, is the ideal place to wind down after a day of hiking on one of Mohican State Park's many trails. Boxer's offers full beverage service and a lounge menu featuring appetizers and sandwiches. From Memorial Day through Labor Day, a poolside lounge is open during the day and you can dance the night away with a DJ every Saturday night.
Boxer's Menu
Are you ready?
Book your stay with us today, and come see for yourself!
Check Availability
Dress code is casual.
Reservations are not required, but are certainly appreciated.
Our lodge, in accordance with state law, provides a smoke-free environment to park guests. We ask that this non-smoking policy be observed in all public areas, including the dining room. Smoking is permitted outside public buildings. Thank you for your cooperation.
The lodge is a liquor permit holder, and in accordance with Ohio liquor laws, alcoholic beverages purchased off premises are not permitted. Again, we thank you for your cooperation.
As a reminder, public areas (i.e. upper and lower lobby areas) are for the enjoyment of all guests. Our company policy requires that food be purchased through the lodge and consumed only in the dining room, lounge or private meeting room. Therefore, no food is to be consumed in the public areas. Private meeting rooms are available through the Sales Office for larger gatherings.