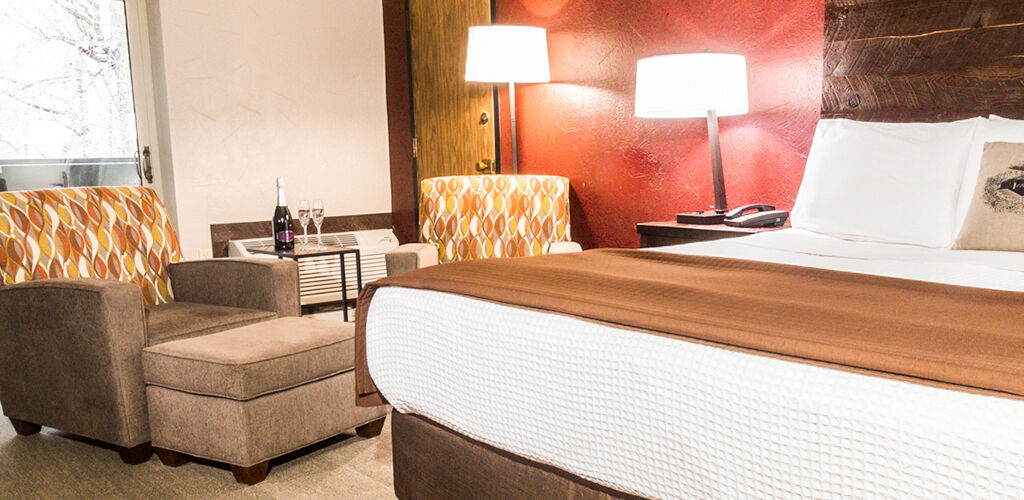 Redesigning Your Stay
Mohican Lodge and Conference Center is in a state of change. To start 2023, we developed a new guestroom design inspired by our natural surroundings. Now, warm tones, new furniture, and custom artwork adorn each guestroom. Learn about more implementations along with future renovations we look forward to sharing with our beloved visitors.
---
Current Projects
Maintaining natural charm while incorporating modern elements is important to us. See what we're working on at the moment to improve the visitor experience.
Elevator Addition
April-November 2023
A new elevator outside Building A will provide access to its pools, meeting spaces, and the Bromfield Dining Room. There will also be a new sidewalk, steps, and an ADA ramp to the guest wing.
---
Future Projects
Our commitment to the visitor experience means we're always working on improvements. Take a look at what we'll be doing next to get in the know on Mohican Lodge.
Renovation Closure
February-May 2024
Mohican Lodge will close to undergo extensive renovations including doors, windows, HVAC, generator, electrical work, and a splash pad. We'll reopen in May 2024 to welcome visitors for a fun-filled summer. Stay tuned for updates on our reopening schedule as we approach our 50th anniversary celebration.
Get a Fresh Experience
Whether you're visiting Mohican Lodge for the first time or the hundredth time, there's something new to experience. Give us a call at 419-938-5411 with questions and explore our lodging options to gather everyone for an epic experience.
Book Now